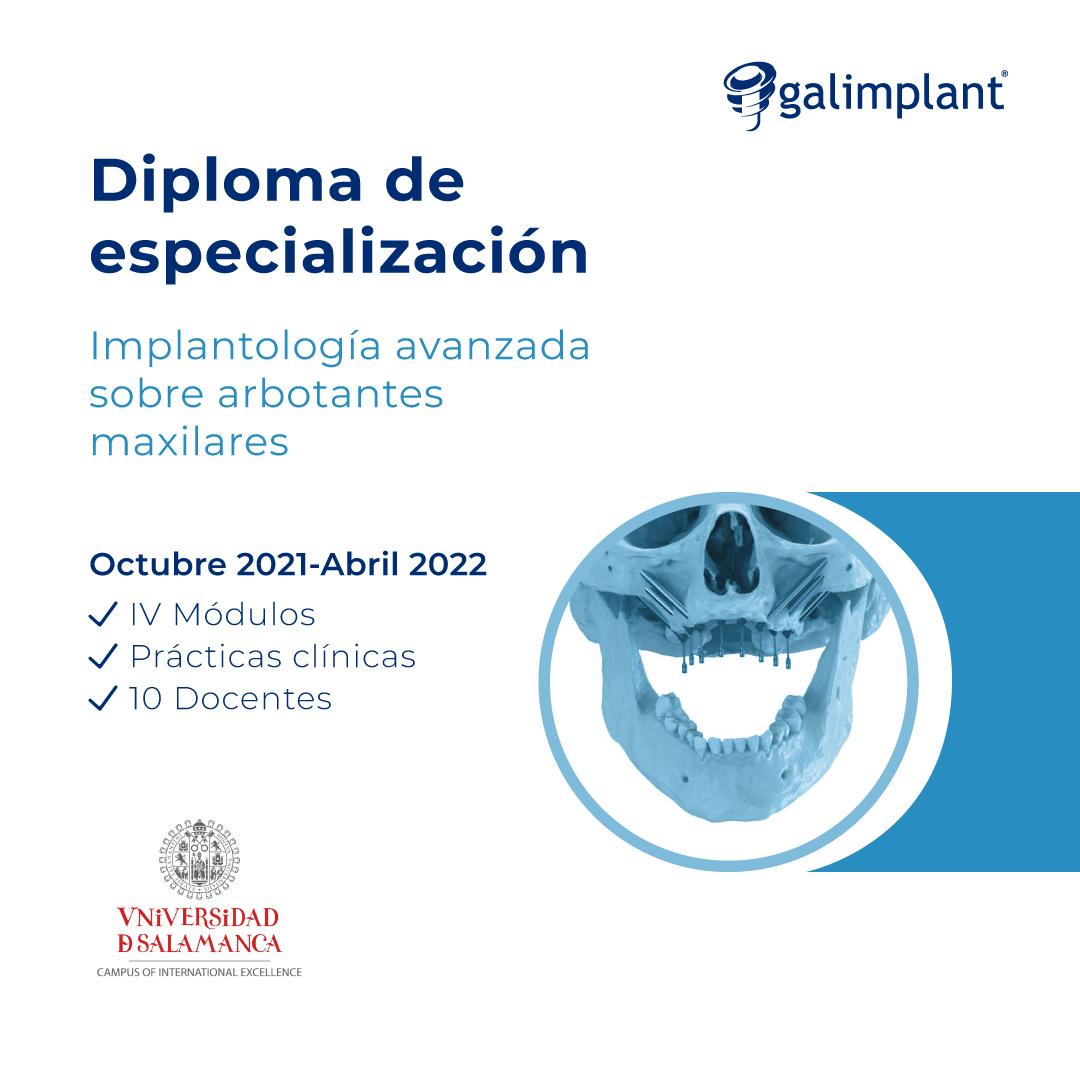 Diploma of specialization | Advanced implantology on maxillary buttresses
1 October 2021
|
€12000
Diploma of specialization | Advanced implantology on maxillary buttresses
Galimplant organizes in collaboration with the University of Salamancathe modular course entitled: "Diploma of specialization in Advanced Implantology on maxillary flying buttresses".
DIRECTOR
Javier Montero Martín, Stomatology Area, Department of Surgery
In many patients, due to advanced bone resorption, treatment with conventional implants cannot be performed with guarantees of success. The techniques traditionally used to rehabilitate patients with severe resorption, required long treatments (two surgeries, taking an iliac crest or calvaria graft …)so that once healed (between 6 and 12 months), conventional implants will be placed, prolonging the global treatment time to around 12 to 18 months.
Over time, studies carried out by Professor PI Bränemark and his group on a rehabilitation alternative for patients with total maxillary edentulism and severe bone resorption, described a surgical technique that has greater advantages over conventional techniques. With the development of this technique(which inserted zygomatic implants in the patient's malars), the treatment time was shortened, even carrying out immediate loading (provisional teeth on the same day of the intervention), unlike traditional treatments. With this protocol, it has been shown that the degree of patient satisfaction increases considerably, which allows an improvement in their quality of life.
Currently, the literature strongly supports the use of zygomatic implants to rehabilitate the total edentulous patient with severe atrophy, there are also other flying buttresses in the atrophic maxilla that can be systematically used in the implant-prosthetic rehabilitation of the entire arch.
The main national and international references that have contributed to the development and refinement of this advanced implantology technique will participate in the theoretical-practical training of this degree.
MODULE I – Anatomophysiological bases | Date: October 29-30, 2021
· Anatomical description of the jaws:
Osteology, angiology, nervous system and its surgical implications
Radiological diagnosis and surgical planning
· Practical workshop with radiological planning software · Practical workshop on cadaveric backgrounds
MODULE II – Concepts | Date: December 3-4, 2021
· Implants in the naso-palatal foramen, palatinized implants and implants in the maxillo-périgo-pyramidal conjunction for the management of the severely atrophic maxilla.
All-On-Four, All-On-Six concept
Description of the technique, indications, contraindications
· IPX Tilted system presentation for All-On-Four, All-On-Six
· Evaluation of the medical risk and pharmacological management of the implant patient
Practical workshop
Implant insertion surgery in 3D models
Module III – Technological | Date: January 21-22, 2022
· Zygomatic implants, original description by Prof. Brånemark
· Zaga concept. Anatomy Guided Implants
Success criteria and complications
Immediate loading of the atrophic maxilla
Occlusion in implant-supported rehabilitation in atrophic maxilla
Presentation of the IPX Tilted system for zygomatic implants
Module IV – Tissue regeneration | Date: February 25-26, 2022
Scientific-technological bases of maxillary regeneration
Simultaneous zygomatic implants with regeneration techniques
· Diagnosis, prevention and treatment of implant complications
Regenerative potentials of plasma rich in growth factors
Diagnosis, prevention and treatment of implant complications
Clinical practices | Date: March 24-26, 2022
– Webinar on zygomatic implants
– The treatments will be carried out by the students
– Practices in the operating room with general anesthesia
– Zygomatic, pterygoid, nasopalatine implants
– Tissue regeneration of the atrophic maxilla
– Immediate loading of the implants placed
FACULTY
Dr. Juan Alberto Fernández Ruiz
Prof. Javier Montero Martín
Dr. Benito Ramos Medina
Dr. Jesús Pato Mourelo
Prof. Antonio López-Valverde Centeno
Prof. Leticia Blanco Antona
Prof. Javier Flores Fraile
Prof. Abraham Dib Zaitum
Prof. Manuel Rubio Sánchez
Prof. Juan Antonio Santos Marino
SCHEDULE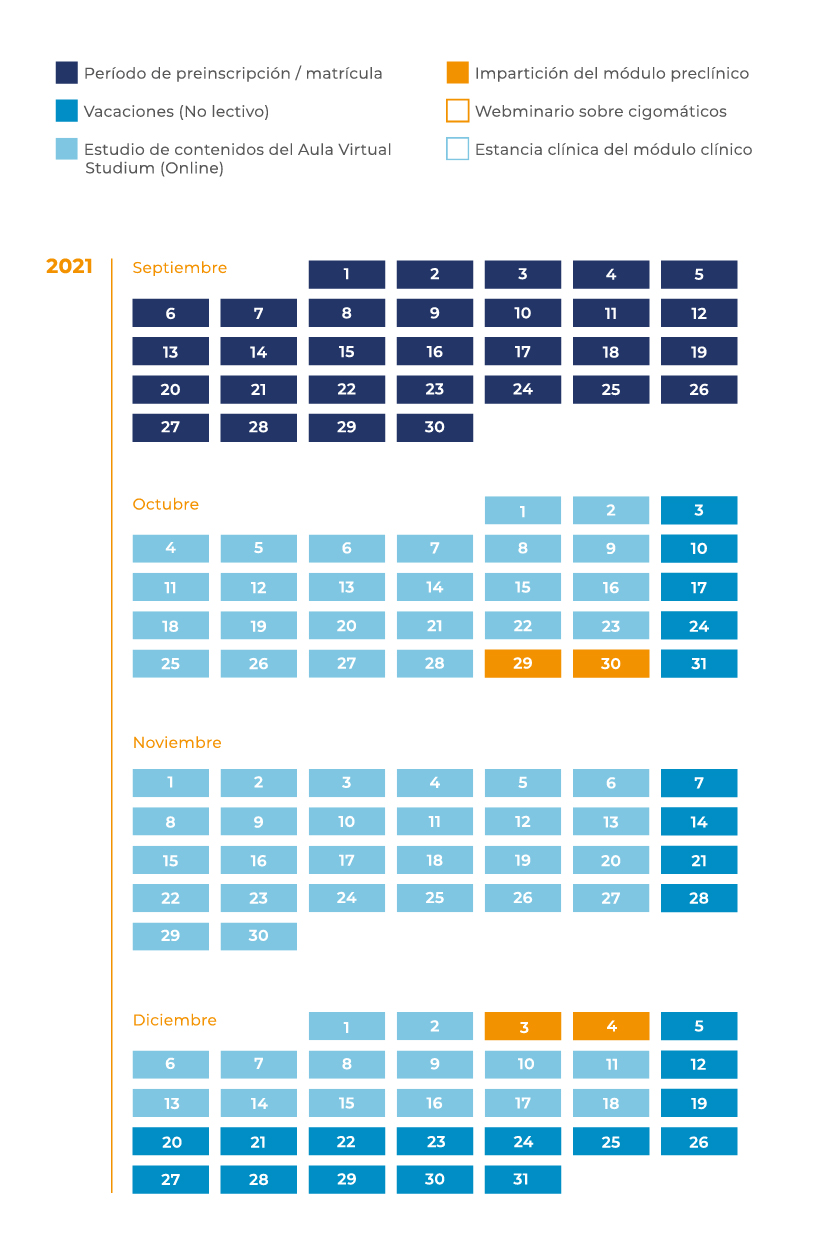 INFORMATION AND REGISTRATION
Venue:Faculty of Medicine of Salamanca, U.S.A.L
Registration fee: € 12,000 (€ 2,000 pre-registration + € 10,000 registration
Included in the registration:
1 zygomatic surgical box
1 set of zygomatic spacers
Implants and abutments needed to rehabilitate patients
Places: 12 students
Credits: 30 ECTS
Prof. Javier Montero Martín (+34) 619 429 971
¡Compártelo en tus redes!